The event will take place in the middle of the Hamburg city centre (Jungfernstieg).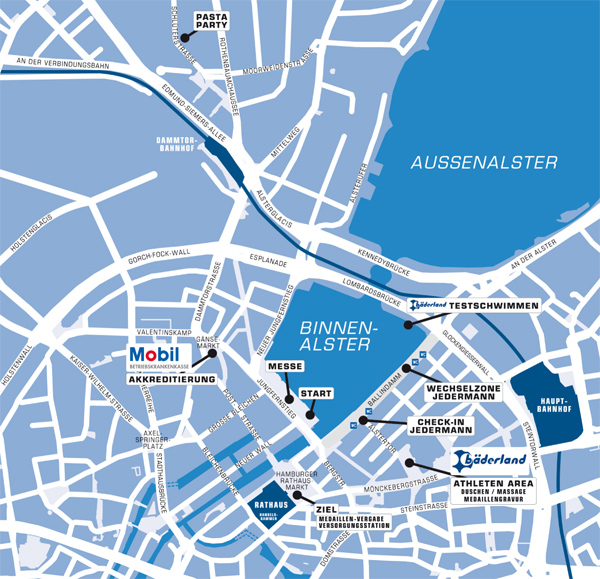 By plane
The airport Hamburg-Fuhlsbüttel is just 12 km away from the city center. The best way travelling to the city centre is by train, taxi or rental car.
Public transport: You can use the city train S 1 between Hamburg Airport and the central station (direct line). There will be a train every 10 minutes. The journey takes about 25 minutes.
Taxi: You have also the possibility to use a taxi to get to the city center. You´ll find them at a taxi collecting point or you order one by calling the following number: 211 211 (large-capacity taxis possible). The travel time takes about 20 minutes.
Rental car: The rental car counter is located at terminal 2 at the arrival level.

Please remember to register your bike/bike- suitcase at the airline.
For more information please call the Hamburg airport +49 (0) 40-5075-0 or click on www.ham.airport.de
By car
Please be aware that there will be road closures in operation for the duration of the event in particular on Saturday and Sunday! We highly recommend to travelling by train or bike.
By train
Jungfernstieg: Please take the city train S1 (green) or S3 (purple) or the subway U1 (blue) or U2 (red)
Mönckebergstrasse: Please take the subway U3 (yellow)
More information you can find here. Please note that due to the current high demand in public transport, it is sometimes not permitted to take bicycles with you on the subways.
We wish you a pleasant journey.